Relations
"Embrace your dreams. If you want to be a hero, you need to have dreams."
RP Messages: 93
Admin: *making a self! rp account!*

Zack: I don't need you any more~


Zack the Puppy
Zack, assumed to have been born in the town of Gongaga, had childhood dreams of joining SOLDIER to become a 1st Class like the legendary Sephiroth. At the age of thirteen Zack left Gongaga without telling his parents, and joined the Shinra's military forces. By October of 0000, Zack had reached SOLDIER 2nd Class under the tutelage of SOLDIER 1st Class Angeal Hewley. Angeal's words of wisdom and strong sense of honor had a profound effect on Zack, who wanted to be just like his mentor. During his time in SOLDIER, Zack befriended 2nd Class SOLDIER Kunsel, who guided him in the ways of Shinra. Zack works under Director Lazard Deusericus in the 49th Floor of Shinra Headquarters, along with many other SOLDIER members.

---

The second wielder of the Buster Sword before Cloud Strife, Zack received the Buster Sword from his mentor Angeal Hewley. Zack is a 1st Class SOLDIER and is Cloud's best friend during their time working for the Shinra Electric Power Company.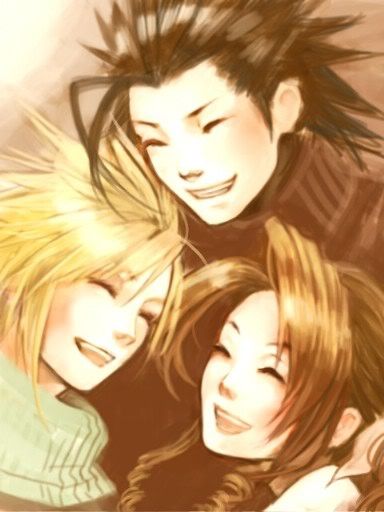 Zack Fair| 1984 | Male| 18 | 6"3| Blood type: O


SOLDIER Sword
Buster Sword
Sniper Rifle



Zack Fair wields four weapons. As a SOLDIER 2nd Class and briefly after his promotion to 1st, he uses a SOLDIER sword, the traditional weapon of most SOLDIER members. Zack later inherits the Buster Sword and in Costa del Sol, Zack fights briefly with a parasol, swinging it around like a sword, but for gameplay purposes it functions just as well as a weapon as the Buster Sword. Later on, in the mission after Nibelheim, he uses a sniper rifle.





Appearance:
"Eyes infused with Mako energy. A SOLDIER trademark. Color of the sky, right?"
Zack has short spiky black hair and bangs framing the sides of his face. He is tall, well-built, and features the iconic sky-blue "Mako eyes" many SOLDIER members have. It is stated in-game that Zack is 6'3" tall. Zack wears a dark blue SOLDIER uniform, gloves, boots, and is equipped with a standard SOLDIER sword, even if most 2nd Class members of SOLDIER wear red and magenta uniforms. Later, he is upgraded to a 1st Class SOLDIER uniform, which is black. Later still Zack obtains the Buster Sword as well as an X-shaped scar on his cheek and changes his hair; it is still spiky but longer, with a lock of hair hanging down in front of his face.
Personality


"SOLDIER 2nd Class Zack, on the job!"
Zack initially has a strong attitude and is always ready for work. His energetic personality had him earn the nickname "Zack the Puppy" from Angeal. He is loyal to SOLDIER and dreams of becoming a hero. He has a friendly and caring personality, easily making friends with almost everyone he meets. Angeal's words of having dreams and honor have had a great impact on Zack, leading him to protect his honor and dreams as a member of SOLDIER, though still he retains his upbeat self. Zack is flirty with women, occasionally asking a few out on a date as he does with Aerith right after meeting her, depicting himself to be somewhat of a ladies' man. Zack is protective of his friends and will be ready to defend them without hesitation.


---

Some of the most amazing dA people that I've met <3

Awesome people ~
































-- my dA waifu..~